Mapping a drive letter to hosted JAQ server.


This document describes the steps required to map a network drive if you are using JAQ Software's hosted server option. JAQ Software's hosted servers are only used if you do not have your own server. If you are unsure if you need to take these steps, please contact JAQ support first.
JAQ Software hosted servers use a protocol called SSHFS to connect to a drive resource on a remote server. To map a drive on the remote JAQ server, you need to first install a couple software drivers, and then map the drive connection.
To connect to the cloud drive, you need to download and install a software package called SFTP Drive V2 from /n software. There is a free version of SFTP Drive V2, but you need to remember to start the program every time you start up your PC. The paid version will start automatically.
Using SFTP Drive V2.
First visit https://www.nsoftware.com/sftp/drive/ and download SFTP Drive V2 ( or V3 ). There are two options, the free "Personal" edition and the paid edition. The free edition needs you to manually start the program when you boot up your computer, the paid edition can be configured to start automatically. Either way, the web site will ask you for some details before you can download the program.
Once you have downloaded the program, install and open it. Click the New button.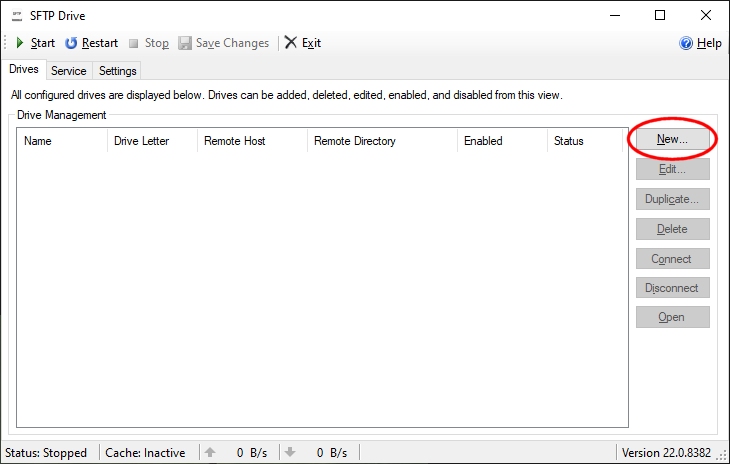 Next fill in the details as shown below, replacing "yourbusiness" ( underlined ) with the user name provided to you by JAQ Support. You will also need to the password provided by JAQ Support.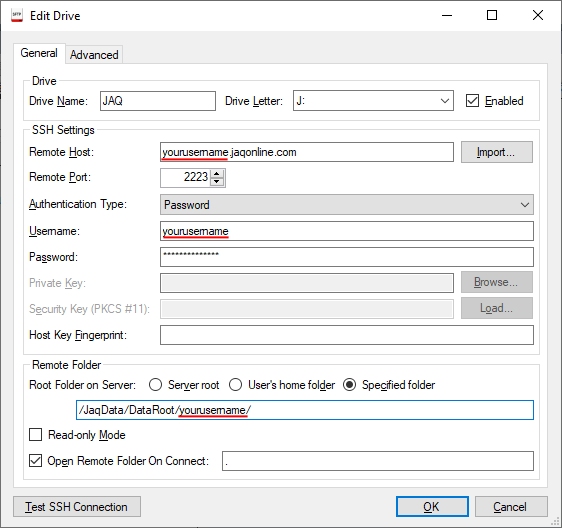 Click OK, the window will close. It may ask you if you want to connect to the drive now, click Yes. Back on the first screen click Start ( or Restart ). SFTP Drive will possibly come up with a message about "The authenticity of host cannot be established...." and it wants to set up a fingerprint, just click Yes to continue.

And that's it. After several seconds Explorer will open and display the new mapped drive.
Remember, if you installed the free personal edition, you will need to start up SFTP Drive V2 ( or put a shortcut in your startup folder ), and click the Start button. If you bought the paid edition of SFTP Drive V2, go to the Services tab in SFTP Drive and tick the Run as service option, so the program starts automatically when you boot up your computer.
If SFTP Drive V2 fails to start, check the settings page, especially note the port number is 2223, and not the default 22.