PC version on Mobile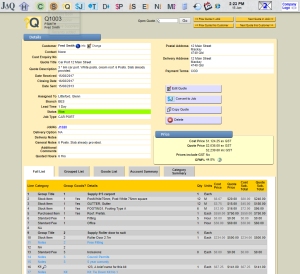 The JAQ pages with display on a mobile phone, but the text is scaled down by the phone, making it impossible to read. You can zoom in and pan around the page, but this is slow and frustrating.
To try and address this problem, JAQ has a "mobile friendly" interface.
On a mobile phone, JAQ will display a simplified version of the page, in a tall narrow format.
This format lets you see the basic information, and perform some basic editing functions, from your mobile phone.
Ideally, this mobile friendly interface is only used while you are away from your PC or tablet, to quickly look up details about a job, quote, or client. You can also raise a purchase order, add a job or quote, and fill in your time sheets. When adding new purchases, jobs, etc, JAQ will only let you enter in basic information, such as a job title, who the customer and contact is, any notes, etc. You can then fill in more details when you have access to a PC ( or laptop, tablet ).